VS
Records: Tigers- LOL  White Sox- Sigh
Game Times: Friday 3:40 and 7:10(ish)/ Sat 6:10/Sun 2:10
TV: Fri & Sun NBCSN/Saturday WGN
SERIES PREVIEW POSTS
Depth Charts and Pitching Staff
Looking Into The Future Of The AL Central
This is it. The bitter end. Honestly, the only reason anyone would be watching this series is Tim Anderson's chase for the AL batting title and as long as he doesn't shit down his leg this weekend it's looking more and more like it's his for the taking. Otherwise all you're going to be watching is Ivan Nova's quest to be .500 for the season and The Future™ pummeling the shitty Tigers pitching senseless. Which in and of itself is pretty fun but at some point it turns a little sadistic (cue Simpsons gif)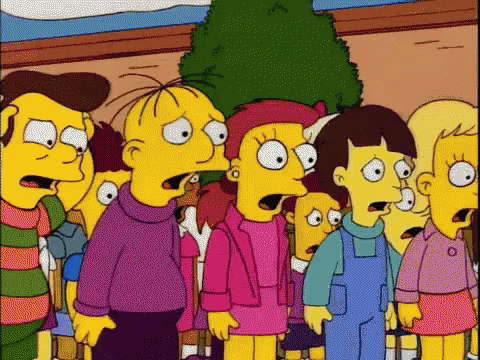 Not much has changed in the week since the Sox last saw the Tigers except the number in their loss column. If the Sox can split the 4 game series this weekend (or Friday gets rained out, which is looking increasingly likely) the Tigers will not break 50 wins in a season for the 2nd time in team history dating back to when the league went to 162 games. They've already sewn up the first overall draft pick in June (which is pretty impressive since the Orioles were a special kind of shitty the first half of the season) and have even less than normal to play for. Other than pride I suppose, but I think most of that left Detroit with the last auto jobs in the late 80's.
For the Sox, it would be nice to close out this year on a high note before the long dark of winter steals the breath from our lungs and the hopes of Garret Cole are swept away on the wind. Tim Anderson is the story, and as long as he can hit .275 on the weekend it would take a herculean effort from DJ LeMahieu to catch him. The other 2 in that race are too far back to be of consequence other than being a footnote. Though if the Sox had pursued Michael Brantley in the last off-season they could've had the distinction of having 3 of the 4 top hitters in the AL and still missing the playoffs. Expect to see more Ross Detwiler and Carson Fulmer this weekend.
This is the end, Mr. Anderson. For better or for worse. Finish it out on a high note and after some time off we will come back and pick over the bones of this season and look to the future.
Let's Go Sox.