So here we are, at the end of the position players who had the majority of the impact on the 2019 White Sox team. What's left is the detritus, the flotsam, the garbage in the Death Star trash chute. Some of these guys will have a job with the Sox next year, but a good chunk of them will not. This is going to be an abbreviated stats write up, as I don't think 2,000 words on AJ Reed will do anything for anyone. So without further ado, here is…
The Rest
ADAM ENGEL
2019 Stats
.242/.304/.383
6 HR 26 RBI 26 R
0.8 WAR +2 DRS 
Tell Me A Story: With the miserable off-season Rick Hahn had in 2018 the Sox were left with no real plan for the outfield other than Eloy Jimenez in left. They let Avisail Garcia walk down to Tampa Bay to have a career year, but made up for it by signing Friend of Manny and Human Stick Figure Jon Jay to a one year deal. This left center field pretty much Adam Engel's by default. At this point, Engel is a known quantity. He plays plus defense at a premium defensive position, and swings what appears to be a soggy pool noodle when he's at the plate. He's a prototypical 4th outfielder at best, but that's very good to have on a team that has deigns on postseason play. The Sox did not, and thus Engel started 90 games this year. To his credit, he finished the season very strong at the plate, and bumped his average above the Mendoza Line.
Contract: $516,000 under team control until 2021, then 3 years arbitration eligible.
Welcome Back Or Boot In The Ass: Unless something really wacky happens, Engel will be back in a Sox uniform in 2020. He's great as your 4th OF, or a late inning defensive replacement and won't actively kill you at the plate.
RYAN GOINS
2019 Stats
.250/.333/.347
2 HR 10 RBI 13 R
0.2 WAR +1 DRS
Tell Me A Story: Ryan Goins was picked up off the prospect trash heap by the Sox in 2019 and intially sent to AAA as an extra body to fill out the Charlotte roster. He responded to the move by hitting .322 down there and playing above average D for the Knights. The Sox rewarded him with a callup in July when injuries began to hurt both the infield and outfield. He actually started out pretty hot, hitting .300 in his first month before falling back to earth and ending at .250 for the season. All in all not too shabby for a guy with the ability to play anywhere in the infield or outfield.
Contract: $975,000 in 2019, 3rd year of arbitration in 2020 estimated at $900,000 by MLBTR.
Welcome Back Or Boot In The Ass: A tough one here. At $900K the price is right for a utility infielder/outfielder. Most of it depends on what the Sox do with Leury Garcia. If they think the $4 million is too much for him and he walks, Goins most likely stays. If Garcia stays, Goins probably starts the season back in AAA while he waits for another opportunity.
DANIEL PALKA
2019 Stats (Don't Look)
.107/.194/.179
2 HR 4 RBI 4 R
-1.3 WAR -4 DRS
Tell Me A Story: In 2018 it seemed like the Sox had found a diamond in the rough when he hit 27 home runs and slashed .240/.294/.778. Granted his splits were terrible against lefties and his defense was hilariously bad (-13 DRS in LF) but he was one of the few feel good stories the Sox had in 2018 and was probably the main reason the Sox didn't actively pursue someone like Michael Brantley in the off-season. The shine came off almost immediately in 2019, as Palka went 12 games to start the season without a hit and was summarily demoted to AAA. He reappeared a few more times during the season, but whatever fix he had down in Charlotte (where he hit .263 with 26 HRs) never came back with him. Ohhh man. I like DP, I really do. He seems like a funny guy online and very approachable. This season, however, is one for the record books and one he and the Sox want to forget as soon as possible.
Contract: $567,000 in 2019 and 2020, arbitration eligible in 2021
Welcome Back Or Boot In The Ass: This is tough, as we have all seen what Palka can do when his mechanics are working at the big league level. Most likely Palka starts down in Charlotte again next season and only comes up if the need arises. The Sox will (hopefully) address the left handed power shortage through free agency.
RYAN CORDELL
2019 Stats
.221/.290/.355
7 HR 24 RBI 22 R
-2.2 WAR -2 DRS
Tell Me A Story: Ryan Cordell is the definition of "a guy" who "plays baseball" for the "major league Chicago White Sox" in 2019. Honestly, he's a career minor league player who has ground his way through the lower levels and finally got a break with the Sox in 2019. He played decent, looks handsome and had an awesome pinch hit home run against the Tigers in July. That's about it.
Contract: $555,000 in 2019, under team control for the next 3 years.
Welcome Back Or Boot In The Ass: Unless Cordell plays his way onto this roster by having an unbelievable spring training he's most likely destined to be back in AAA next season. The Sox have better options up and down their lineup.
DANNY MENDICK
2019 Stats
.308/.325/.462
2 HR 4 RBI 6 R
0.2 WAR 0 DRS
Tell Me A Story: Danny Mendick was drafted by the White Sox in the 22nd round of the 2015 draft. He moved steadily up through the lower levels of the minors hitting around .260 during his journey but always with consistent power. The Sox decided to give him a shot in September and purchased his contract during call ups. He responded pretty well, hitting for power consistently again during his time at the big league level. He played decent D in the infield and is an intriguing piece for the Sox going forward.
Contract: $550,000 in 2019, under team control for the next 3 years before arbitration
Welcome Back Or Boot In The Ass: This will be an interesting story line in spring training. Mendick has shown pretty significant power at every level of the minors, and may turn out to be more than just "a guy" for the Sox in the infield. A lot depends on what the Sox do with Leury Garcia, but Mendick has a decent chance to be on the opening day roster in some capacity. We shall see.
MATT SKOLE
2019 Stats
.208/.275/.236
0 HR 6 RBI 7 R
-0.5 WAR 0 DRS
Tell Me A Story: Honestly, I'd rather not. Skole is the latest in a loooooong line of failures by the White Sox to properly staff the DH position. He played in 9 games and was utterly unremarkable in all of them.
Contract: 55,500,000 pennies were put in Skole's bank account. Which is good work if you can get it.
Welcome Back Or Boot In The Ass: If Matt Skole comes back in any capacity next season things have gone horribly wrong and I'm probably not watching it.
GONE AND HOPEFULLY FORGOTTEN
Jon "MIA" Jay
Charlie "I'm Not The Coldplay Guy" Tilson
Nicky "Nicky" Delmonico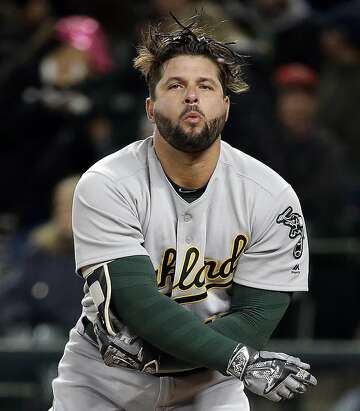 Yonder "Fuck" Alonso
AJ "Fat Sami Zayn" Reed