BOX SCORES
Well it's not a sweep (which against a team as miserable as the Tigers should always be the goal) but any series win at this point has to be viewed through a positive lens. Honestly if I'm being picky there were a few things that were this the middle of the season I might bitch more about, but at this point of the season all I can do is shrug and gaze longingly at the postseason (and Tim Anderson's current batting average). The things that needed to be good this series were good (except for Reynaldo Lopez), and the things that didn't matter were kind of good as well, but still didn't matter. Playing the Tigers is good for reminding a fan base that despite all the things that have gone wrong for a team during a season, and this season there have been plenty, it can always be much much worse.
To The Bullets……OF THE FUTURE™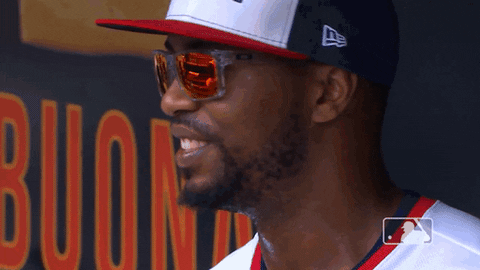 IT'S SUCH GOOD SHIT
-The Sox hammered out 47 hits this weekend. 47!!! That's…a lot. I would've wanted some more runs to go with those 47 hits but…POSITIVITY!!!
-TIM ANDERSON WATCH, GAME 155: Timmy did all right this weekend, getting 4 hits and keeping his average at .334, but LeMahieu creeped in a little closer at .329. It will be interesting to see if Renteria gives Anderson an extra day off this week or keeps him out there. I'm sure if it was up to Anderson he'd be out there every day.
-Eloy is on fire right now, going 6 for 14 in the series with two home runs (one of which was of the grand slam variety) and a triple. He came a double short of the cycle Friday night, and is looking like the demigod that was promised us. Oh, his second home run of the series? It was his 30th, good for 2nd in the league for all rookies. He's gonna lose the rookie of the year honors to Yordan Alvarez of the Astros, but whatever. Alvarez gets to hit in the middle of the MLB lineup equivalent of a fleet of Star Destroyers, so what can you do?
-Speaking of those that deliver, Yoan Moncada is on another plane of existence right now. 6 for 12 on the series with 2 more home runs and some spiffy defense in the field. In his last 15 games, Moncada is hitting .477/.493/.754. I don't miss Chris Sale that much, do you?
-Credit where credit is due, Adam Engel is quietly having himself a quality back half to the season. In his last 15 games he's slashing .286/.314/.571 and has 4 home runs for himself. That's not too bad for your 4th outfielder next year, especially with the defense we all know that he can play. Good for him, good for us.
-All was not roses this weekend, however. Reynaldo Lopez is back to being extremely hittable again, and on top of that it seems like he might be getting frustrated on the mound. He and Renteria had an animated conversation in the dugout after he gave up his second dinger of the day to Gordon "I'm Still Here?" Beckham. Whatever was said didn't work, as he went back out there and gave up the trifecta to Victor Reyes. Lopez will have one more start on the year, and here's hoping he ends it on a positive note, as I still feel he's a solid 5th starter for this club going forward.\
-Next up is the Cleveland Indians, and a chance to play spoiler as the Tribe attempt to sneak into the wild card as they currently sit a half game behind Tampa Bay after the weekend series. Ohhh how glorious it would be to fuck the Tribe out of a postseason appearance, let's make that a thing.