BOX SCORES
This is just how it's going to be for the rest of the month: ignoring a good bunch of the shit that isn't part of the future, and analyzing the parts that will be and pulling the good from that. If this series is viewed through that lens, then it can be considered successful. The players that are going to be here next year and beyond are performing (and sometimes exceeding) to expectations, and the ones that aren't…who gives a shit? I'm past the point of getting pissed off at Ricky Renteria and Hahn for running Dylan Covey out there to get shelled. Or getting upset when Alex Colome gives up the game in a non-save situation.
What's important is another excellent start by Lucas Giolito, or the continued offensive successes shown by Tim Anderson and Yoan Moncada. The fact that Old Man Abreu is back to his Old Self again, and looking worthy of an extension for the first time since May. These are the things that need paying attention to, because getting pissed off at Dylan Covey? Down that path lies madness.
So my plan for the rest of the month is to keep it positive and look at the things that are going right for the Sox and their future. I may be forced to mention some stuff that is leaning on the negative side, but it won't be the focus. This will also be campaign headquarters and ground zero for me trumpeting Tim Anderson's candidacy for AL Batting Champ. Let the good times roll, baby!
Bullets? Not anymore. Now we have…
DANCE PARTY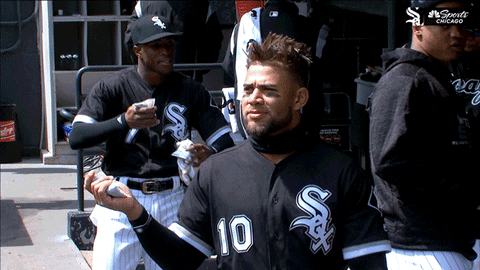 SHAKE IT OUT
–Tim Anderson continues to drive the ball at a hellacious pace. Renteria gave him the day off Sunday, but he's still sitting on an 8-game hitting streak with 7 of those games multi-hit affairs. Since the calendar flipped to August he's slashing a gaudy .379/.395/.582 with a .977 OBPS. Granted his walk rate is 2.5% in that time, but who cares? Moncada walked a shitload more last season but I doubt you'd find anyone sane out there who liked the last season version better. Tim is slightly ahead of DJ LeMahieu right now for the AL batting lead, and it's shaping up like must-see TV for the rest of the ride. Best of all is the fact that he's clearly having fun while doing it. Future clubhouse leader, folks.
-Speaking of Yoan Moncada, he continues to rake at the dish as well going 6-13 in the series. I'm not a huge fan of him hitting in the 2 spot as it's gonna limit his RBI opportunities, but Jose Abreu certainly enjoyed him being there. Moncada is batting .280/.349/.460 since coming back from the DL halfway through August. He's also playing excellent D at the hot corner, as his UZR this season is 5.0, versus a nasty -4.9 last year when playing at 2B. Good things, people. Good things.
–Lucas Giolito had himself another ho-hum quality start again, going 7 and giving up 2 runs while merely striking out 6 Angels. He left in line for the win, but Aaron Bummer hit a bump in the road and coughed up 2 to allow the Angels to tie the game. In the 11 starts Gio has had since the All Star game he's struck out 96 guys while only walking 18. If you'd have told me this time last year that Giolito was going to be one of the top 5 starters in the AL this season I'd have told you your brain had clearly failed but here we are. GOOD THINGS!
–Danny Mendick fired a laser beam into the Sox bullpen off of Jamie Barria in the bottom of the 5th today for his first ever home run. I don't think it ever got more than 12 feet off the ground, and it left in a HURRY, with an exit velocity of 106 MPH. That was only to be outdone by Jose Abreu, who absolutely murdered a ball in the bottom of the 3rd inning that was estimated at 462 feet. That was Abreu's 600th RBI and his 30th dinger of the season. GOOD ASS THINGS!
-Next up is a three game series against the Royals starting Tuesday, with even more opportunities for GOOD THINGS! White Sox Baseball: It's Such Good Shit!