When the Bears face Joe Flacco and the Denver Broncos on Sunday, you can't help but think they will be looking into a mirror or sorts. See, Flacco is the one quarterback in the league whose skill set most resembles Bears QB Mitch Trubisky. Granted, being a Super Bowl champion makes Flacco a far more successful pro, but his own individual Ravens career could best be described as somewhere between meh and shouldn't Joe Flacco be better? Sometimes, when you win a Super Bowl with an elite defense, all you really need from your quarterback is to be average – sound familiar?
Now, would the Bears love to have a mediocre Joe Flacco behind center this year? I would answer with a resounding YES! Flacco has been a very good game manager throughout this career, and with Vic Fangio taking over a very defensive minded Broncos team; the "game manager" nametag figures to stick to Flacco again this season.
As we look ahead to week 2, the Bears front 7 will take on the brunt of responsibility in limiting Flacco on Sunday. Based on what we learned about the Bears defense vs. Green Bay, as well as Flacco's performance against the Raiders in the opener, I would expect the Bears defense to be extremely successful for the second straight week. The Bears made Aaron Rodgers look pedestrian last Thursday, and you Joe Flacco, are no Aaron Rodgers. Because of that, I do not envision a scenario where the Broncos QB is the reason why they win this Sunday. However, I also do not envision a scenario where the Broncos QB is the reason why they lose this Sunday.
Where Will The Broncos and Flacco Attack the Bears Secondary?
Going back to the 2016 season, the Charted Passer Rating results paint a very accurate picture of just how consistently inconsistent Flacco has been:
2016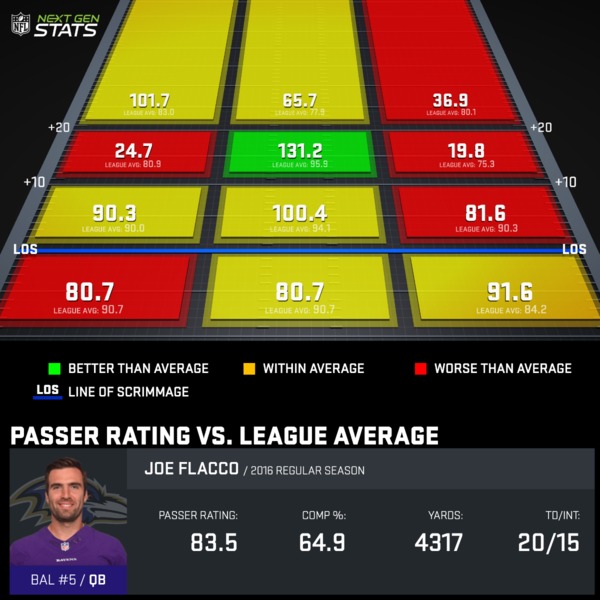 2017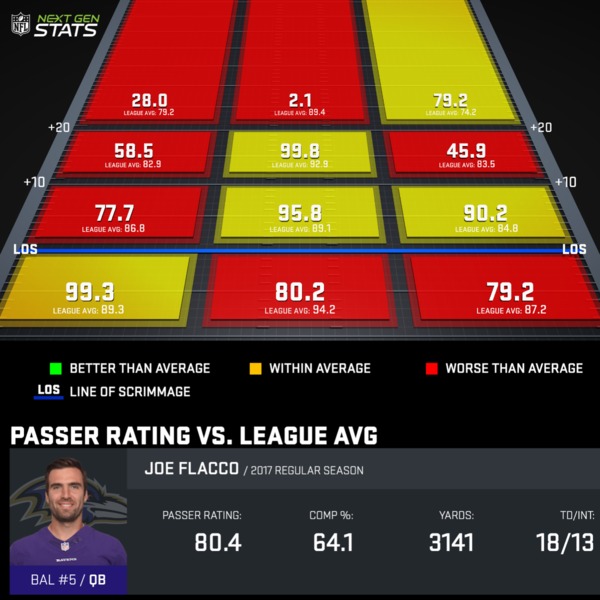 2018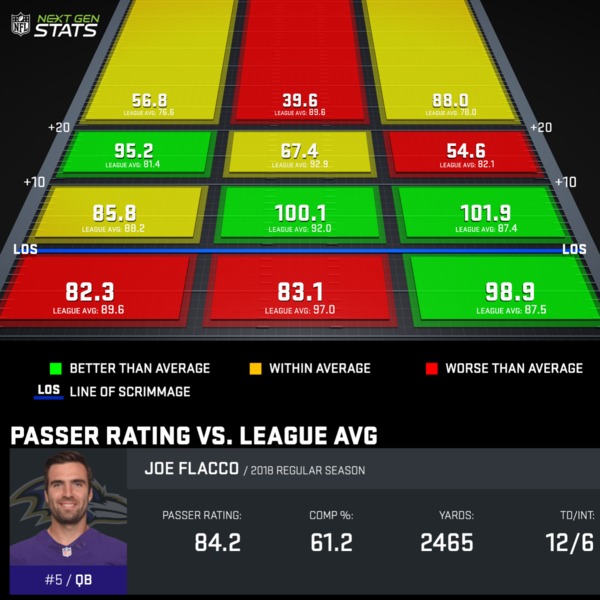 This chart shows a general lack of consistency in any given yardage or portion on the field. Almost every NFL quarterback has a throw that they know they can make in their sleep. Joe Flacco, based on these charts, is the exception to that rule. Watch for the Bears to match up based far more on personnel than they will on where Flacco is comfortable throwing the ball.
What Did We Learn From Flacco in Week 1?
In dissecting Flacco's week 1 performance, there are a few things to be aware of as you watch the Broncos QB take on the Khalil Mack & Co.:
Week 1 was vintage Joe Flacco in almost every way:

1 TD
0 INT
68% Completion Percentage
8.6 Yards Per Attempt
268 Passing Yards
Sacked 3X

Although this stat line screams "Game Manager," it is also a game I'd take week in and week out from Mitch T.
It is also worth noting that Flacco put together a nice portion of his numbers when the game was pretty much decided. If not for ten 4th quarter points on scoring drives of 54 yards and 75 yards, Flacco and the entire Broncos offense could have been classified as Bears-esque.

Courtland Sutton, Emmanuel Sanders, and Noah Fant all averaged over 14.5 yards per catch. Would I trade the Bears receiving corps for this group? No. But for one week, their QB put them in a position to be successful, which is something we cannot say about the Bears QB in week 1.
Joe Flacco had 1 rushing attempt for 1 yard. As he is somewhat limited athletically, he must go through his progressions and look beyond his first option or 2. This is the opposite of the far more athletic Mitch Trubisky, who looks to use his feet almost immediately after his first read has been taken away. Listen, I love Mitch's athleticism, and I talk about it often, but sometimes he's simply too athletic for his own good.
The Bronco's O-Line is an abortion. They quite honestly may be the worst non-Dolphins unit in the league. This could get ugly for Flacco on Sunday, who at this point in his career may be more about personal wellness than sitting in the pocket getting his crank kicked in.
As Such:
If the Bears can control the Broncos running game and their defense plays according to plan, then Joe Flacco isn't going to be the guy who can put a team on his back and beat you – that just isn't in his makeup. He has made a career by being a serviceable NFL starter and he has experienced a great deal of team success in that role, but I don't see him becoming super human on Sunday against one of the best defenses in the league; which is why the Bears will earn their first W of the year in yet another low scoring, borderline unwatchable affair.