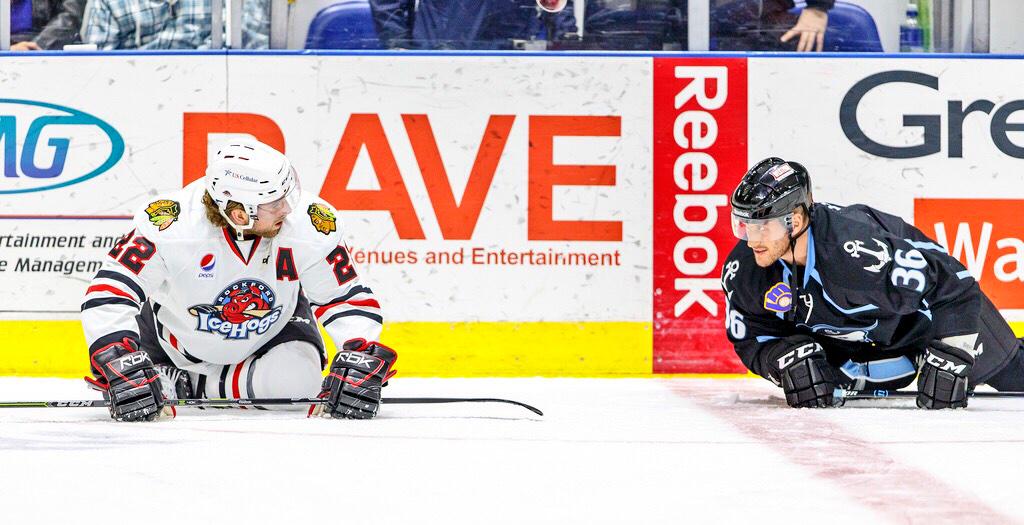 The Rockford IceHogs were stripped of the lead in the AHL's Midwest Division by the Milwaukee Admirals this past weekend. Rockford dropped both ends of a home-and-home with the Admirals and stirred up some bad blood to boot.
The IceHogs played both games without Brandon Mashinter, who was serving a two-game suspension by the AHL for an elbow to the head of Chicago's Jani Hakanpaa January 31. The infraction was not penalized on the ice but was later drew the ire of the league. Mashinter returns to action as IceHogs forward Cody Bass begins serving a two-game suspension for leaving the bench to try and engage Milwaukee forward Michael Liambas Friday night.
The IceHogs and Ads nearly started a pre-game brawl of Slap Shot-proportions Saturday at the BMO center, with three bouts taking place during the game itself. Liambas sure seems to be the guy every Hog wants to dance with. After Bass failed to get to the Ads forward Friday, Labrie was adamant about squaring off with Liambas. Bass traded punches with Liambas early on Saturday.
Labrie, who already had a fight to his name two minutes into the game, challenged Liambas across the ice on a neutral zone faceoff in the third period. Liambas declined, as he did with T.J. Brennan later in the period.
With Rockford traveling to Milwaukee this Friday, a big brouhaha could well be on the horizon. This brings to mind the bench-clearer between these two teams back on April 1, 2012, when then-IceHogs forward Rob Flick went at Milwaukee goalie Jeremy Smith (check that fracas out here). Hopefully the AHL will spring for the fourth official Friday.
Johns Returns…Again
On the positive side, Stephen Johns returned to action Friday after a leg injury kept him out of the previous four games.
Johns is still looking for his first goal of the season. He's played in just five games now since coming back from a concussion suffered November 26. Johns has six assists on the campaign but has no points since the game in which he was injured.
A Slice Of The BMO
On occasions where we are both in attendance, Chris Block will often come down from the press box to chat between periods with me. More often than not, he'll be in the middle of an amusing anecdote only to be interrupted by some IceHogs fans.
Are these fans coming up to sit under the learning tree and be regaled by his vast hockey knowledge? No, they're just asking him where they can smoke.
Apparently people see Block dressed in a professional capacity with his media pass and assume that he works for the BMO Harris Bank Center. Some nights he has to fend off half a dozen requests as to where the smoking areas of the building are.
Saturday was Jeremy Morin Bobblehead Night. Combined with a big divisional matchup, the IceHogs posted their third straight home sellout. Of course, Morin thanked the Rockford fans from outside the locker room of the Columbus Blue Jackets.
Morin hadn't skated in Rockford this season (the IceHogs were on the road when he was sent down before the trade). However, it still brought back memories of a bobblehead night for Rob Klinkhammer shortly after Klinkhammer had been traded to Ottawa a few years ago.
Tough Weekend
Friday, February 6-Milwaukee 4, Rockford 1 The IceHogs got the first goal of the contest before the home team put up four unanswered scores to draw even with Rockford at the top of the Midwest Division.
Cody Bass came out of the box after a slashing penalty, took a stretch pass from Klas Dahlbeck and backhanded a shot that beat Ads goalie Marek Mazanek and gave Rockford a 1-0 advantage with 2:08 remaining in the opening frame.
Unfortunately, things only got worse for the IceHogs on this night. Milwaukee scored twice in the second period to take a 2-1 advantage. After the period ended, Bass left the bench in an attempt to get at Milwaukee's Michael Liambas and given an unsportsmanlike conduct penalty.
Kevin Fiala scored on the resulting power play 1:25 into the third period to make it 3-1 Ads. An empty net goal completed the scoring for Milwaukee.
Lines (Starters in italics)
Garret Ross-Phillip Danault-Mark McNeill
Matt Carey-Dennis Rasmussen-Ryan Hartman
Peter Regin (A)-Jamie Wise-Pierre-Cedric Labrie
Drew LeBlanc-Cody Bass (A)
T.J. Brennan-Ville Pokka
Klas Dahlbeck-Stephen Johns
Kyle Cumiskey-Zach Miskovic
Dillon Fournier
Michael Leighton
Scratches-Viktor Svedberg, Alex Broadhurst, Ryan Schnell, Brandon Mashinter
Power Play (0-2)
Rasmussen-Ross-Carey-McNeill-Brennan
Danault-Hartman-Regin-Labrie-Pokka
Penalty Kill (allowed a goal in six Milwaukee attempts)
Danault-McNeill-Dahlbeck-Johns
Labrie-Bass-Cumiskey-Pokka
Rasmussen-Regin-Brennan-Miskovic
Saturday, February 7-Milwaukee 7, Rockford 5
This one teetered on the edge of a donnybrook starting in the pre-game warmup, when P.C. Labrie had more than a few words with Michael Liambas between the penalty boxes. There were a couple of such gatherings between the two teams, suggesting that:
A) Labrie was offering his review of the new Spongebob Squarepants movie, or
B) We were going to see some fighting, but soon.
Two minutes in, Labrie tied up with Tristan Grant. The tussle quickly wound up with both players hitting the desk. Labrie kept beckoning Liambas every time the two were on the ice, but we had to settle for Cody Bass (who somehow had been the voice of reason before the contest) taking on the Ads forward a few minutes later.
Garret Ross was tossed for arguing a call and Ryan Hartman tangled with Felix Girard late in what was a wild affair. Despite allowing just 17 shots, the IceHogs found themselves playing catch-up all evening to no avail.
The Admirals got a power play goal just 1:32 in on a Brenden Leipsic shot that I doubt Scott Darling saw. Things got ugly on the Hogs first power play a couple of minutes later as they couldn't seem to keep a puck on their stick. One such loose puck was scooped up by former Blackhawks speed merchant Viktor Stalberg, who swooped in and backhanded a shorty past Darling at 4:11 of the opening period.
Coach Ted Dent swapped out his net-minder with Michael Leighton, which seemed a bit unfair as Darling was kind of left out to dry on the play. Leighton didn't fare much better, mostly because the Rockford defense kept allowing skaters to get behind them. Most of these breakdowns wound up in the IceHogs net.
Mark McNeill potted a power play goal to cut the lead to a goal with 6:54 gone in the first. It looked as if Rockford had tied the game with 3:50 to play in the period when Ross got off a shot from the left circle that got past Marek Mazanec. As Ross and the full house at the BMO celebrated, the play was reviewed and the goal was waved off.
Opinions varied in the stands, of course. From what I saw when they showed the goal replay, it looked as if the puck struck the crossbar and landed without crossing the goal line. The review was brief and was likely pretty conclusive, so the Admirals lead stood firm.
In what was a running theme throughout the night, the Ads would take advantage of a breakdown to re-establish control. Late in the period, Stalberg got behind the defense, skated around rookie Dillon Fournier like he was standing still and beat Leighton in similar fashion to how he solved Darling. Milwaukee led 3-1 after 20 minutes.
In the last two periods, the Hogs fought to get back into the game only to surrender goals to Milwaukee. Phillip Danault closed the gap to 3-2 midway through the second on a ferocious forecheck behind Mazanec. Danault got the puck across the goal line via the Ads goalie but later in the period, Stalberg got his third of the night on a Milwaukee power play, putting Rockford down 4-2 going into the intermission.
A goal by Grant increased the deficit to 5-2 before Jamie Wise got his third goal of the season by jumping on a rebound and banking it off of Mazanec 9:13 into the third. Milwaukee restored a three goal lead four minutes later on an Austin Watson tally.
The IceHogs didn't give up. Ryan Schnell scored off a Hartman rebound late in the 17th minute and Hartman himself (completing a Gordie Howe Hat Trick) converted on a rebound of a Ville Pokka shot with 14 seconds remaining. An empty-netter sealed Rockford's fate as they fell two points behind the Admirals in the Midwest Division standings.
Lines (Starters in italics)
Garret Ross-Phillip Danault-Ryan Hartman
Peter Regin (A)-Dennis Rasmussen-Mark McNeill
Matt Carey-Jamie Wise-Pierre-Cedric Labrie
Ryan Schnell-Drew LeBlanc-Cody Bass
Klas Dahlbeck (A)-Kyle Cumiskey
T.J. Brennan-Stephen Johns
Ville Pokka-Dillon Fournier
Scott Darling
Michael Leighton
Scratches-Zach Miskovic, Viktor Svedberg, Alex Broadhurst, Brandon Mashinter
Power Play (1-5)
Rasmussen-Ross-Carey-McNeill-Brennan
Danault-Hartman-Regin-Labrie-Pokka
Penalty Kill (allowed two goals on six Admirals chances)
Rasmussen-Bass-Dahlbeck-Johns
McNeill-Danault-Brennan-Pokka
Labrie-Hartman-Brennan-Dahlbeck
Coming Up
This should prove to be a huge weekend for Rockford. After a third straight matchup with Milwaukee Friday night, the Hogs host the Oklahoma City Barons Saturday. Oklahoma City currently leads the AHL with 66 points. On Sunday, the San Antonio Rampage come to the BMO Center.