As we continue around the diamond we come to one of the more exciting (and divisive) players the Sox employ to patrol their infield, Tim Anderson.
In a season where Rick Hahn really needed some pieces of The Future™ to break out and give the rebuild a nice new glossy shine, Tim Anderson stepped up and not only gave Hahn a success story (along with Yoan and a few others), but the White Sox organization a face and an attitude they can market the living shit out of if they do it right.
While this might not need saying, I'm a complete mark for Tim Anderson. He's exciting, speaks his mind, and plays with the kind of flash and fire that hasn't been on the team since Ozzie Guillen left for South Beach. There is something very Pro Wrestling about Tim, and that's probably a big reason I find myself drawn to his play. I mean, this quote is basically cutting a promo on the entire "Old School" belief system in MLB. It's badass:
If you can't get behind this type of swagger in professional sports, then you haven't been paying attention the past decade. Baseball is supposed to be fun, and this is the definition of that.
2019 Stats
.335/.357/.508
2.9 BB% 21.0 K%
18 HR 56 RBI 86 R
.363 wOBA 130 wRC+ 3.5 WAR
Outs Above Average: -1
Last Week On Nitro: 2019 saw a career year at the plate for Timmy, with a .335 batting average and a .508 slugging percentage at the end of the year. Oh, and he also won the AL batting title, making him the first White Sox player to hold that crown since Big Frank did it the year I graduated high school (1997. Yeah, I'm old). Despite all of the above, questions still remain about Timmy. While the .335 batting average was amazing, the .357 OBP was somewhat less than stellar. With his BABIP at a pretty unsustainable .399, the question isn't "IF" the regression is coming for his average, it's "how much will it be"?
Defensively, Tim committed quite a few errors last year. His 26 total lead all shortstops last season, which is bad. What's even worse is he missed almost a month and a half with an ankle injury suffered at the shitbox Fenway Park on a soggy infield, so those 26 errors could've ended up being a much higher number. The advanced metrics don't like him either, ranking him 21st in defensive production in 2019 with an UZR (Ultimate Zone Rating) of -9.1.
All is not lost defensively, however. The new defensive stat created by Baseball Savant in conjunction with MLB and Statcast takes into account the difficulty of plays and the distance needed to travel to make said plays (For a good primer on the stat, click here). The league average for fielders is set at zero, and the more positive the number the better, and the more negative number is worse. For comparison, last season Javy Baez was best in the league at short with a +19, while Jorge Polanco was dead last with a -18. Tim Anderson fell just below league average at a -1. What this tells me is that Tim is an extremely athletic shortstop with great range and occasionally poor throw making decisions, which is exactly what the eye test shows.
TOO SWEET! (WHOOP WHOOP): Best case scenario for Timmy is that his BABIP only drops about .030 points, and all of the work he talked about putting in on his defense in the off-season bears fruit and he ends up a league average or better shortstop in the AL. For someone who is clearly as gifted as Tim is athletically this is not something that's pie in the sky wishful thinking.
A Tim Anderson that hits .290/.310/.480 is going to be a monster in this lineup, which will be even stronger with him hitting in the 7 hole and not leading off like Ricky Renteria seems to think is the best course of action right now. Once Nick Madrigal is fully armed and operational at the big league level, this is gonna be where Timmy ends up. He's never going to be a big OBP guy, and that's absolutely fine. Being picky about pitch selection has never been his forte, and I wouldn't risk changing it just to up his walk total at the expense of his power numbers.
I'd also like to think that him and Moncada will have more of a green light this year, so a 20/20 year is within reach if everything breaks his way. His base stealing acumen has always been more based on his athleticism than any particular feel for the art of it, but much like his OBP…who gives a shit if it works? Having a 20/20 guy hitting in the bottom third of your lineup in a best case scenario is the kind of shit that should give Jake Odorizzi and his pool noodle arm night sweats.
YOU FUCKED UP! YOU FUCKED UP!: This one is pretty self explanatory: Tim's BABIP falls off a cliff and his numbers completely tank, resulting in the type of season that is much more Alex Cintron than Francisco Lindor. His OBP stays the same, or even drops some and you're left with a slash line that looks something like this: .225/.252/.388. On top of that big pile of smoldering shit, his D continues to slide and he goes from slightly below league average to total liability.
Then you're left with the younger more expensive version of Orlando Arcia except with a longer contract term. Meanwhile just to rub salt into the wound, Fernando Tatis Jr. wins the triple crown while leading the Padres to a wild card berth where they upset the Brewers in the 1st round and shock the baseball world by sending the Dodgers out on their collective asses before winning the world series. In addition, the world is dealt a glancing blow by a meteor, which knocks the planet off it's axis sending us into a 2nd ice age. Also Brooklyn 99 is canceled and Big Bang Theory comes back.
BAH GAWD THAT'S ANDERSON'S MUSIC!: My prediction for Tim this season is this: .272/.308/.461 with 19 dingers and 82 RBI. He's going to be a +2 Outs Above Average, and steal 18 bases while scoring 90 runs for the Sox.
Renteria is going to stubbornly keep him in the leadoff spot even after Nick Madrigal makes it to the Show, and Luis Robert starts the year on a tear, batting .309. Eventually he'll come to his senses (around June) and put Tim back in the #7 spot where he will thrive, knocking in 58 of his 82 RBIs.
There will also be plenty more of stuff like this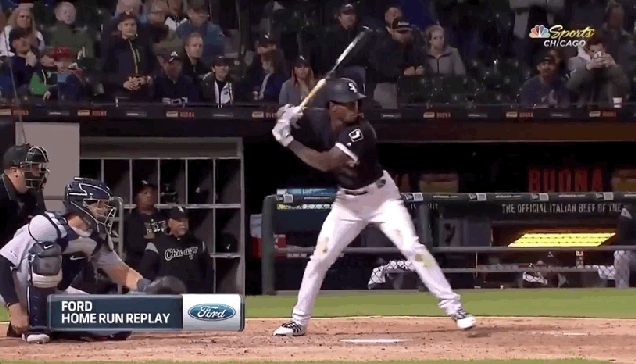 And This: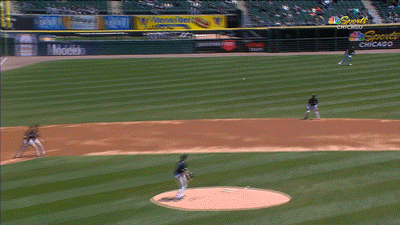 And This: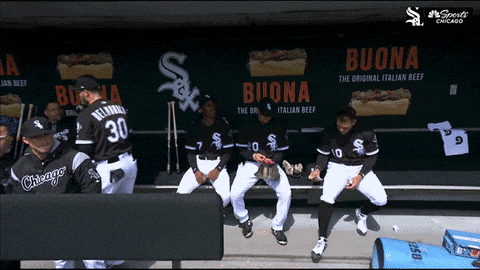 Because baseball is going to be fun again.